"After finding out that my website had fallen off the first page of Google, I realized that my current SEO company was no longer able to provide the level of service that my business required. I interviewed several SEO companies, none of which impressed me. Luckily, I was referred to Michael at SEM Genius and I couldn't be happier. From the total re-design of my website to online reputation management and optimization, these guys have you covered. Mike and his team have done a fabulous job of increasing our ranking and overall online exposure. I highly recommend SEM Genius, true professionals."

Daniel Kinnetz, Founder AC Today
As a small business boutique web design company, we have a huge advantage over the larger agencies.  Our attention to detail and the ability to exceed expectations stems from not only our genius strategies, but also that we won't don't take on your competition.
And, not everyone is a good fit here at SEM GENIUS as it is our utmost priority for our select clientele to absolutely dominate their industry.  And the fact is, not every small business HVAC company wants to dominate.  Some are happy with coasting and not making major changes.  That's fine.  But, hiring us would be a disaster for them.  The phones will be constantly ringing, emails pouring in and hungry customers craving ac repair, ac replacement, ac maintenance, etc.  Sounds awful eh?
And for those that want to appear top of the search engines and have a beautiful website along with a team that not only understands the HVAC industry, but proves expertise through results, then you are in the right place.
You see, we have no sales team to pitch you on why you need a better website, SEO expert or anything like that. In fact, I LOATH those guys.  I mean how many times per week are you pitched by some self proclaimed SEO guy that claims he can get you to the top of the rankings?
When hiring a web company for your HVAC it is important to consider if there is a long term relationship opportunity.  I am constantly getting calls from small businesses telling me how they can't get a hold of their "web guy" or that their web company is no longer in business. Don't let this happen to you.
Here are 5 tips on hiring a digital marketing agency for your AC Company:
Start With Small Projects First
Our recent client and owner of AC Today came to us in a bind.  His rankings were in the gutter and the phones completely stopped ringing.  He had a "template" website and the SEO strategy in place was a wreck.   I advised him that he needed to build a complete foundation and start with a custom website, new content, branding, etc.   But he didn't know us from the thousands of other companies pitching for his business.  So instead doing this huge project, we decided to create a landing page and start sending paid traffic there in order to get the phones ringing again instantly.  We knew the leads would be expensive, but we needed new business.  Starting small was a great way for us to prove our level of transparency and that this was going to a be long and prosperous relationship for his business.
Pick A Company That Shows Results
So many agencies have sales teams that will close you without even thinking about it.  They will pester you and talk bad about your current company. But really they don't have the results to back them up.  They are simply are sales guys.  When an HVAC company comes to us, I can show that we increased traffic for one of our clients by over 400%, increased call volume, email leads and even customer reviews tremendously.  And we welcome you to call any one of these clients.  In fact, we highly recommend you talk to existing clients before signing up.
Talk To The Leader, Not The Sales Guy
Our success with each client is because I am highly involved in each project.  In fact our entire team is almost equally involved so we all get to know your business thoroughly. As the leader of the band, I want even our designer to know integral parts of the performance, not just design pretty things.  I want our programmer to understand that faster page loads mean high conversion rates.  This all ties into HIGHER ROI.   There cannot be any weak links!
Hire Business Knowledge, Not Nerds
There are a lot of very technical people in this industry.  When I go to marketing conferences, I sometimes take a step back and just listen to the typical internet marketing guy talk numbers, math, algorithms and equations.  I mean, how am I ever going to compete with guys like that?  Well, here's the thing.  Stop worrying about algorithms and Google shifts in rankings. Sure I'm on top of all that stuff, but more importantly, I'm looking at your perfect customer and how I'm going to build the perfect platform to cast a net on them.  The understanding of your business as an HVAC is far more important than just algorithms.
Don't Use Templates!
If I hear the word template one more time… You want to dominate your competition, but your Web Development company is using templates to build websites?  Prove to Google and more importantly your customers, that you are the authority for all HVAC services in your are and do something custom that takes planning, content writing, graphic design, etc.   No other website will look the same or read the same as yours.  How about that?
Back to the Case Study
Proving to the owner of AC Today that we were the right agency for the job was not our priority.  At this time, it was our mission to build a long term relationship with him and do each piece right.  Starting with a custom website and going all the way to reputation managment with a ton of pieces in between.  Remember, that foundation?
The entire process was extremely planned with the entire team and while all this was taking place, we started a remarketing campaign in efforts to convert current traffic to customers.  Remarketing is extremely underpriced and works great to remind customers about your business.  It gives us another chance at converting them.
Check out this Remarketing ad we ran all over the internet.  Nothing like a grumpy kid to get your attention and hit home with the parents.  Just think of that broken AC and the parent that wants to get the home cool again asap.   Didn't I tell you we are way more business savvy than just technical.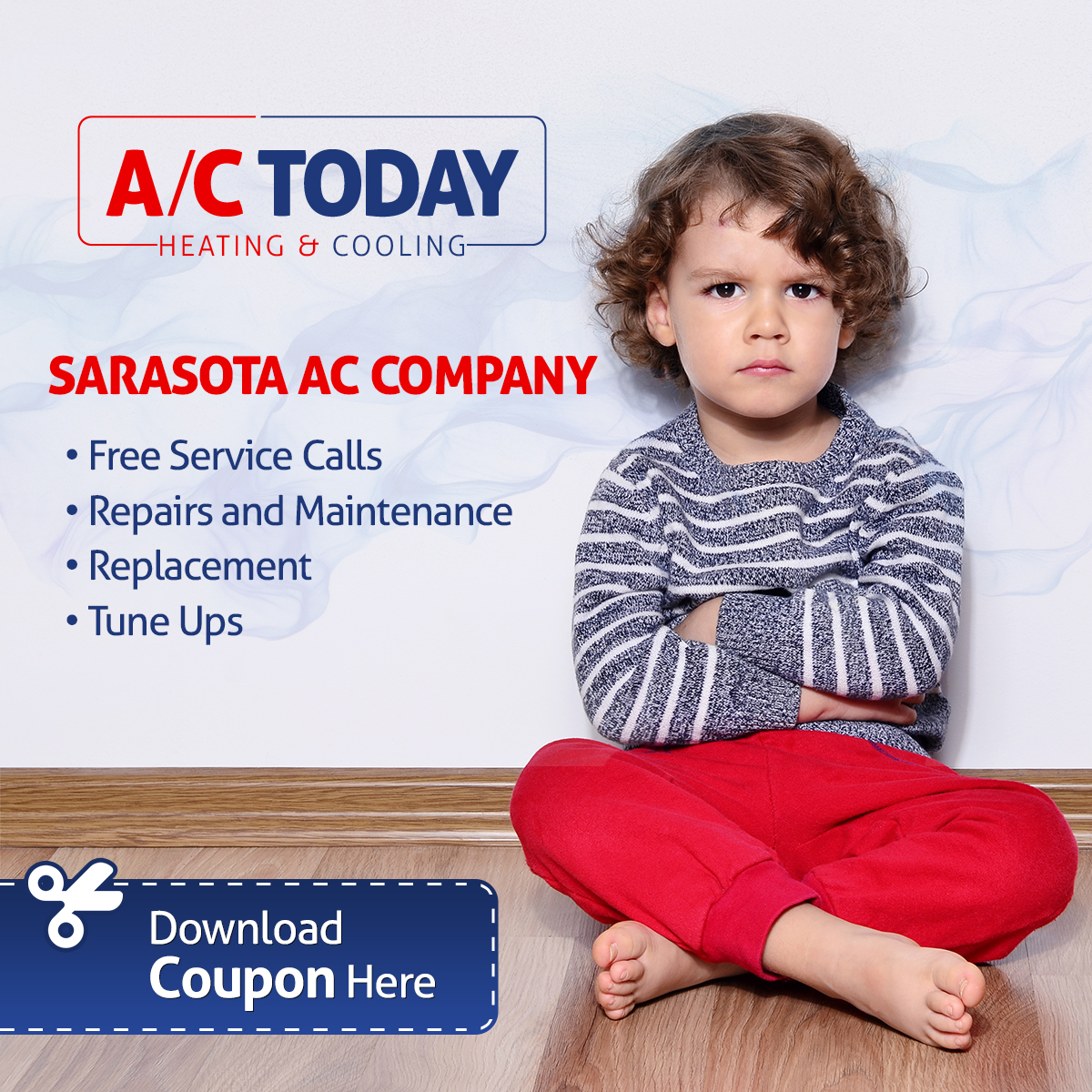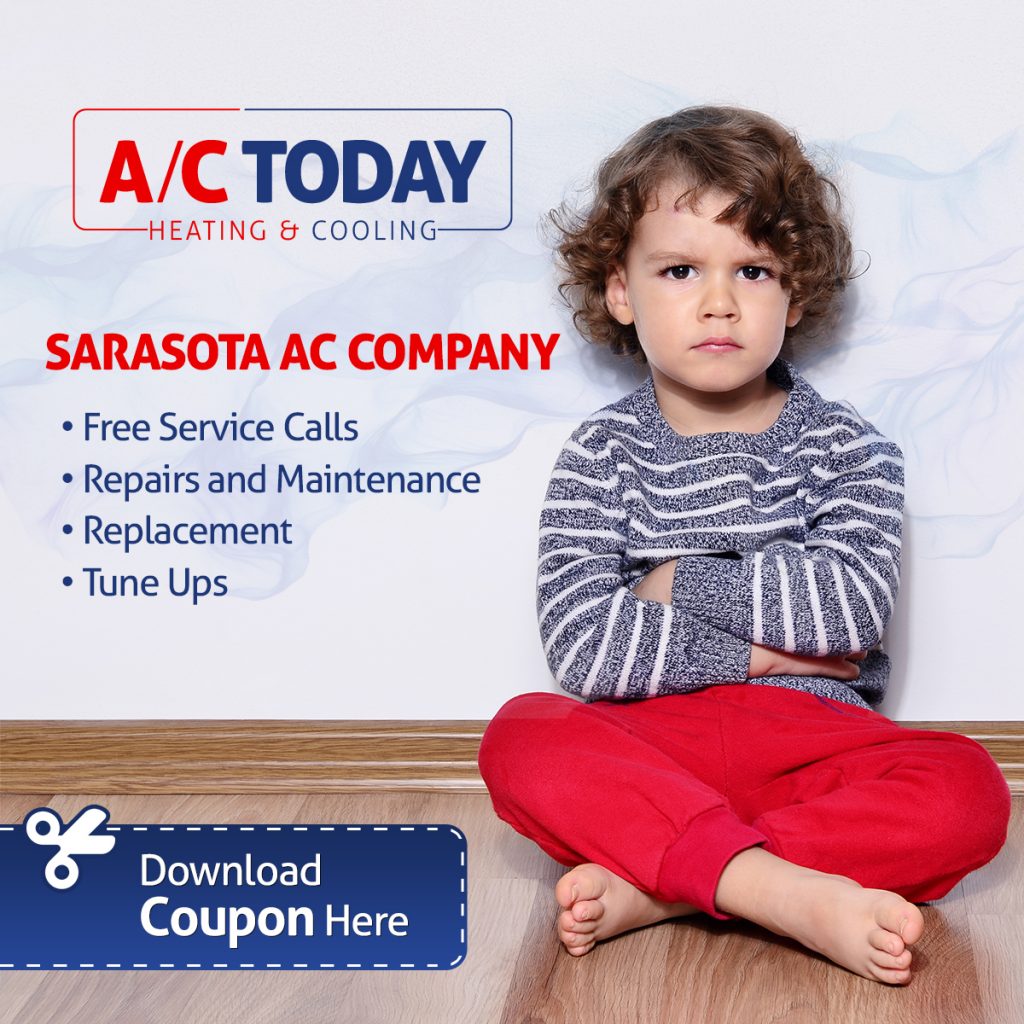 Moving on, it was time to get off the website template.  As I mentioned I hate using templates and won't even work on them here.  All these companies like WIX and such offer you no value.  Granted it is much easier to get a website up through a company like that, but I guarantee you won't dominate and that is what it all comes back to.
Back into the boardroom, my entire team got together and really identified each aspect of a new website that needed to be done.  From a big phone number to an easy to use contact form, we created a wireframe that took an entire week!
And here was the result:
This was our home page design that started as a wireframe and went to photoshop.  100% custom and built around the AC Today brand.  No where else on the web where you see a website that looks or fees like this.  From here, the photoshop file went to coding and the copywriting started by Tim.
Content, Content and Content
Now here is where we really get to show off.  Tim is our copywriter and known for writing high quality content for websites and also used in our SEO strategy that outperforms drastically.  Content is king, ya ya ya.  We know, but high quality content is even better.
On top of content, we were also developing digital animation videos as well as video testimonials.  As video is still extremely underpriced, it is vital all our clients have a strong video presense.  These animator videos are relatively cheap and offer great value.
Let's Fast Forward To Today, Monday April 3oth 2018.
Now we have a website in place that we are confident we can execute high level SEO strategies.   Our social media presence is increasing and our reputation is kicking butt.  Notice I keep saying "our".  I told you we don't have clients, we have "partners".  
Just in time for the 90 degree weather, we have built a foundation that we are very confident will produce big results.  While it is a never ending battle, we are always looking for more ways to increase ROI.
Oh and remember I said we won't take on your competition, it is true.  If you are a Sarasota HVAC company, we can't help you.  We are committing to just one HVAC per area.  I just don't understand how any agency can pin clients again each other especially in an industry as competitive as HVAC.
So if you are not in the Sarasota area and looking to grow your HVAC company with an agency that not only understands YOUR Business, but we care about results and is extremely honest along the way, then give us a ring.  Either way, I would love to talk to you about your business and point you in the right direction.
Visit: https://www.actoday-fl.com to see the website in this case study.